---
In This Edition
---
President's Message
AGM & Board Update
LSV Awards of Excellence
Bass District Development Camp
Volunteer Positions Vacant
Membership Renewals for Season 23/24
Sponsors
---
President's Message
---
Hi Team,
As we edge closer to the vibrant season of spring, we are thrilled to share some exciting updates from our recent Annual General Meeting (AGM). The club is abuzz with positive developments, and we can't wait to bring you up to speed.
Firstly, congratulations to the newly elected Board members who will be steering us through the approaching season. Glenn Arnold is returning as President as will Angela Malan in the role of Secretary, we warmly welcome Steve Duncan as our new Treasurer and Tim Robinson as the Director of Lifesaving Operations. Together, we are embarking on a journey to ensure the continued safety and success of our cherished club.
We are equally delighted to introduce the members of our Senior Leadership Team (SLT). David Morris takes on the pivotal role of Club Captain, while Lucy Tate assumes the position of Chief Instructor. Xavier Korbel steps in as Competition Coordinator, and Ella Arnold continues as the leader of Member Leadership & Development. Their enthusiasm and expertise will undoubtedly fuel our success this season.
In preparation for the season ahead, we have been busy enhancing our facilities. The club's painting project is nearly complete, breathing new life into our surroundings. Moreover, we have exciting news – new carpet has been ordered for the patroller lounge, promising a cosy and welcoming space for our dedicated members.
As we gear up for the coming season, we are looking to fill several key roles within the club. You'll find the list of these roles in the newsletter and website, and we urge you to consider volunteering. Our volunteers play a pivotal role in the smooth functioning of the club, and we value each contribution greatly.
Should you be interested in discussing your availability for any of the roles, don't hesitate to reach out to Angela Malan or myself. Your enthusiasm and commitment are crucial to the continued success of our club's endeavours and responsibilities.
For a comprehensive overview of the club's achievements and progress, we encourage you to explore our Annual Report available at https://islsc.org.au/annual-reports/
A heartfelt thank you to all members who attended the AGM, whether in person or online.
With spring just around the corner, we're eagerly counting down the days to another memorable season at Inverloch Surf Lifesaving Club.
All the best.
Glenn Arnold
---
AGM & Board Update
---
Lifesaving Operations and SLT Update:
Hi all, Tim Robinson here. Firstly I would like to thank all the members for trusting me to lead the way as the new Director of Lifesaving Operations. It is an exciting time for myself to take on this challenging, evolving, but rewarding role heading into what will be another fantastic summer on the beach. For those of you not familiar with me, our family (Samantha, Josh, Will and Charlotte) have been members now for around 10 years, since Josh and Will first started Nippers in U8. Whilst Sam and Charlotte have preferred the more relaxed approach to our holidays in Inverloch, both myself and the boys are very active members who enjoy patrolling, upskilling qualifications, competing, and spending time racing the IRB's.
But this year I have decided to embark on a new journey as a Board Member, and as the leader of the Operations SLT. What excited me about the role was the opportunity to lead a developing group of senior leaders across all life saving operations, the SLT. Whilst my life saving experience may be somewhat limited, I am invested in developing a high performing team of individuals by coaching, empowering and mentoring them in their areas of interest and expertise, to create a powerful front line committee to manage all the life saving operational functions.
Please welcome the appointment of the following:
Club Captain – David Morris
Chief Instructor – Lucy Tate
Competition Coordinator – Xavier Korbel
Member and Leadership Development – Ella Arnold
These four leadership positions will be instrumental in the future success of the club, and should any member have any ideas, thoughts, or would like to discuss anything to do with Life Saving Operations please reach out to them. Further below, you will also find a request from each of them for expressions of interest for their own sub committee roles. This is a great opportunity for members to get actively involved in the running of all our volunteer services, meeting new people and being part of a team. Whilst each role has individual responsibilities, as part of the wider team you will work closely with other members and enjoy the rewards of making a difference, so please express your interest.
In closing, again I am very grateful for this opportunity to be part of the future success of the club, and I cannot wait to engage with everyone this summer through respectful communication, teamwork and collaboration.
Tim Robinson
Director of Lifesaving Operations
Operations:
Hey everyone it's David here, and I am excited to be the Club Captain for season 2023-24. The aim for this season in operations is to work as a collective to lighten the load and ensure our patrollers are supported whilst ensuring our beach is safe. Summer will be here sooner than we expect and there is a lot to be done before we hit the beach. I am looking for some eager, passionate active members who are wanting to develop their skills and knowledge to join my team.
The positions up for grabs are:
Patrol Manager
First Aid Officer
IRB Captain
Radio Officer
Gear Steward
Junior Club Captains
If you have any questions about the roles or requirements please have a look at the position descriptions in the club by-laws via the website or feel free to send me an email at clubcaptain@islsc.org.au. If you are interested in contributing or learning in any other capacity within operations please reach out.
David Morris
Club Captain
Training:
Hi team Lucy here, I'm excited to be taking on the role of Chief Instructor this season. Inverloch SLSC is buzzing with enthusiasm, drive and ideas for progress and I am excited to contribute to that. To do this effectively, I will need a small team of enthusiastic trainers to join the Chief Instructor Sub-committee. If you are interested in any of the roles below or if you would like any further information please shoot me an email chiefinstructor@islsc.org.au.
The positions open are as follows:
Invy Bronze Head Trainer
Kew Bronze Head Trainer
SRC Head Trainer
ART/FA Head Trainer
IRB Head Trainer
I am also excited to release some save the dates for our Bronze Camp and Surf Rescue Certificate (SRC) at the end of this year. Bronze Camp will run 10th – 16th December and SRC will be 28th – 30th December and 2nd – 4th January. Please look out for registrations in the coming weeks via email. We are looking to run an ART & FA course on 27th December and an IRB course in early Jan, details and confirmation to follow. Dates for CPR and requal opportunities are currently being confirmed and will be released in next month's newsletter.
My emails are always open for any thoughts/ideas and I look forward to seeing you all on the beach over summer!
Lucy Tate
Chief Instructor
Competition:
Hi all! I'm amped to be developing Inverloch's competition program for this coming season. Some of our goals for this year are to continue with and expand on the success of our IRB competition team, increase nipper competition opportunities and improve Inverloch's representation at other aquatic sport events. If you're keen to help organise or compete in any of these, please feel free to reach out.
The Competition committee will consist of:
IRB Competition Team Manager
Summer Competition Manager
Intra-club Competition Manager/s – (Includes ISLSC Club champs, nipper competitions, inter-patrol competitions, etc.)
To apply for a committee role, express interest in volunteering for competition in another capacity, or if you have any questions about the above roles, please shoot me a message at competition@islsc.org.au. No previous competition experience is required to apply.
Xavier Korbel
Competition Coordinator
Member and Leadership Development:
Hello everyone, hope you're all well! I'm very privileged to be back in the MLD role this season working with a fantastic team. We have lots of projects on the go and I can't wait to see what the team achieves. As a MLD team we are focused on engagement, inclusivity and developing clear development pathways throughout the club from nippers right through to senior leadership positions. As always, many hands make light work, so if you are interested in any leadership and development roles or have any new ideas please reach out to me at development@islsc.org.au for more information.
Please see vacant positions below:
Nipper Coordinator
Nipper Committee Member's
Starfish Nippers Coordinator
Nippers Transition Officer*
Youth Involvement Program (YIPs) Coordinator
Patrol Recognition Program Coordinator
MLD Administration Support
*This new role is aimed at retention amongst the nipper community (nippers and parents) providing information on pathways after Nippers. They will be a source of information on all things such as junior competition, LSV Programs, SRC, Grommet Guru's, etc.
To apply for a committee role, express interest in volunteering for competition in another capacity, or if you have any questions about the above roles, please shoot me a message at competition@islsc.org.au. No previous competition experience is required to apply.
Ella Arnold
Member & Leadership Development
---
LSV Awards of Excellence
---
On Saturday the 12th of August we celebrated the amazing work of our members at the Life Saving Victoria Awards of Excellence. It was amazing to see our outstanding members being recognised at a state level. Congratulations to the 5 finalists:
Lucy Tate – Volunteer Trainer of the Year
Brydie Smith, Grommet Gurus – Innovation Award
Jackson Comrie – Youth Lifesaver of the Year
Xavier Korbel – Junior Lifesaver of the Year
Ella Arnold, Bass Coast Pink Patrol – Inclusion Award
A massive Congratulations to Jackson Comrie who Won Youth Lifesaver of the Year!! Jackson's contributions to the club and lifesaving last season was also recognised whilst receiving a Gold award for his 160+ Patrol hours.
Well done to all the Nominees!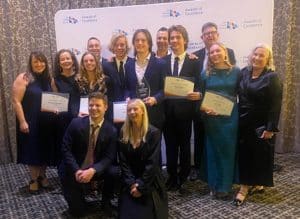 ---
Bass District Development Camp
---
The camp is planned to run from the afternoon of Sunday the 14th of January 2024 until Saturday the 20th of January 2024. The program is targeted at 16-18 year old members who have completed their bronze medallion, but not restricted to this. Older members who think that they will enjoy the company of the younger crowd and the hands-on scenario based learning that Dev Camp is known for are welcome to apply.
If you are interested in participating please complete the EOI. If you have further questions regarding the Camp please contact development@islsc.org.au
---
Please support our Sponsors
---
Are you passionate about making a difference in our community? The Inverloch Surf Lifesaving Club seeks dedicated individuals to fill vital volunteer positions within our Club.
We are currently seeking individuals for the following positions:
Member Protection Officer:
As a Member Protection Officer, you will be the primary point of contact for our valued club members. The role of the MPO is to support members and protect them and the club's wellbeing, to provide member welfare education and support. This position requires excellent communication skills, empathy, and a genuine commitment to fostering a strong sense of community. Training will be provided by Life Saving Victoria.
By becoming a volunteer at the Inverloch Surf Lifesaving Club, you will not only contribute to the safety and enjoyment of our beautiful beach but also be part of a close-knit team of dedicated volunteers who share a common goal. Whether you have experience in these roles or are eager to learn, we welcome your interest.
If you're ready to make a difference and be part of something special, please don't hesitate to contact our Secretary, Angela Malan, at secretary@islsc.org.au or President Glenn Arnold at president@islsc.org.au or by completing the online Volunteer EOI form found here: https://islsc.org.au/documents-forms/
Kiosk Manager:
The Kiosk Manager position is perfect for those who love serving beachgoers with delicious food and refreshing beverages. You will be responsible for the day-to-day running of our kiosk, including stock management, volunteer supervision, and maintaining high standards of cleanliness. Your warm and welcoming approach will help create memorable moments for all visitors.
The Inverloch Surf Lifesaving Club invites interested parties to submit an Expression of Interest to operate the club's kiosk for the upcoming 2023/24 season. We are enthusiastic about engaging with potential operators to ensure the seamless functioning of this vital facility.
Prospective operators are encouraged to participate in discussions to explore this exciting opportunity. Please provide details of your relevant experience, proposed menu offerings, staffing capabilities, and any innovative ideas to enhance the kiosk's appeal.
Operating the kiosk presents a unique chance to contribute to the club's vibrant beachside community. Express your interest or for further information about the kiosk's dimensions, facilities, and terms of engagement can be obtained by contacting Glenn Arnold or Angela Malan.
We look forward to your Expression of Interest and the potential to collaborate in delivering exceptional beachside experiences to our valued patrons.
---
Membership Renewals for Season 23-24
---
Membership renewals are open. Go to the membership page on the website here: https://islsc.org.au/membership and click the Join / Renew button.
Nippers Program applications will be out shortly. All existing members will receive notification via email. Starfish Nippers will open at the same time.
If you are interested in any other programs e.g SRC & Bronze, please complete an EOI here: https://islsc.org.au/membership/expressions-of-interest/ and you will be notified when applications open.
---
Please support our Sponsors
---