---
In This Edition
---
President's Message
Patrol Survey
Mentor Mentee Program (M2M)
U18 Leadership Development Camp Applications
ESF Mental Health Matters Workshop
Starfish Nippers – Equipment Donations Request
Vale – Isabella Massaro
IRB Racing Team – Expressions of Interest
Membership Renewals for Season 23/24
Sponsors
---
President's Message
---
Hi Team,
I hope this newsletter finds you well and excited for the upcoming season. With September upon us, the weather is beginning to warm up, and our preparations for the season are well underway. There's a palpable sense of anticipation in the air, and we can't wait to hit the beach again.
First and foremost, I want to express my heartfelt gratitude to all the wonderful members who dedicated their time and effort during the working bee this past weekend. Your hard work has brought us one step closer to being fully ready for the season. It's incredible to see the passion and commitment of our club members, and we truly couldn't do it without you.
Our preparations are in full swing, and this week marks the commencement of one of our first training programs, the ILSAR training program. This is the first time we have run this program. Thanks to hard work from Xavier and his team we wish them all the best for this new initiative.
A tonne of work has been done by the Board & SLT and we are thrilled to present a wealth of essential information to our valued members. Your active participation is now crucial.
First, our Patrol Survey is underway, shaping patrol schedules and gathering patroller feedback; please complete it by October 4th. Our Mentor Mentee Program (M2M) supports young leaders aged 18-25 by pairing them with experienced mentors; apply by September 20th. Additionally, the 2023 Under 18 Leadership Development Camp aims to enhance teamwork, leadership, and lifesaving skills; apply by October 10th. Join us on November 18th for the Emergency Services Foundation Mental Health Matters Workshop, addressing mental well-being. Lastly, support our Starfish Nippers Program by donating beach toys and musical instruments.
Don't forget to renew your membership for the upcoming season. Your involvement is vital to our club's success.
Thank you for being part of our community!
Glenn Arnold
ISLSC President
---
Patrol Survey
---
With the season fast approaching it's that time of the year where the patrol survey helps establish the patrol rosters and vital feedback from our patrollers for the upcoming season.
If you could fill it out before the 4th of October that would be unreal.
Any questions, please email Millie: patrolmanager@islsc.org.au
---
Mentor Mentee Program (M2M)
---
The LSV Mentor Mentee Program (M2M) supports the development of young leaders, aged 18-25, by pairing them with experienced mentors to help them face the challenges of current and future leadership roles.
It also provides a platform to develop leadership credentials, build on current skill sets, and provide a framework to assist with reaching leadership goals.
The Program Impact:
Develop young leaders to face the challenges of current and future leadership roles, both within lifesaving and in their personal lives
Build on current leader skill sets and motivate to reach leadership goals for both Mentees and Mentors
Engage experienced volunteer member leadership expertise and sharing of knowledge
Provide networking opportunities
Applications have now been extended to Wednesday 20th September. For more information, head to the program page on LSV Club Gateway here https://clubs.lsv.com.au/areas/164
---
Applications are open for LSV's 2023 Under 18 Leadership Development Camp
---
The 2023 U18 Leadership Development Camp will take place from Friday 1st to Sunday 3rd December at Lord Somers Camp, Somers.
<strong
Understanding the characteristics of effective teams,the stages of team development, and meeting team member's needs.
Understanding how to lead a team to suit the different personality styles.
Developing communication, mentoring,and coaching skills.
Build on and develop lifesaving skills through practical training scenarios.
Inspiring participants to stay involved in lifesaving through broadening their understanding of lifesaving pathways and future opportunities within LSV.
Clubs are encouraged to promote and nominate suitable members to apply for the Camp.
Applications close Tuesday, October 10 2023.
---
ESF Mental Health Matters Workshop
---
ISLSC is privileged to be hosting the Emergency Services Foundation Mental Health Matters Workshop on Saturday November 18th 2023.
This is a fantastic event and we'd love to see as many faces as possible. The event is free and lunch is included so please bring friends and family. Topics covered in this 2.5 hour informal workshop include:
What is mental fitness?
Identifying the signs & symptoms
What's in your toolbox
What's my PPE?
Who is in your support crew?
Where to get help
Stigma around mental health
How to help others
How to effectively ask R U OK?
This is an opportunity to start conversations and gain insights on how to best support your own mental health and wellbeing, along with supporting those around you.
The 2.5 hour workshop will commence at 10am and attendees are invited to stay after for lunch and networking.
Please RSVP via the facebook event or email development@islsc.org.au.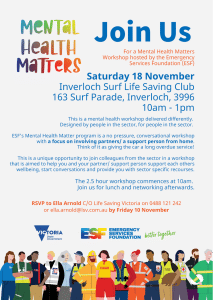 ---
Starfish Nippers – Beach Equipment Donations Request
---

Support the Starfish Nippers Program: DONATE BEACH TOYS AND MUSICAL INSTRUMENTS!
Have old beach toys or musical instruments lying around in excellent condition? Your treasures can make a world of difference to ISLSC's brand-new Starfish Nippers Program!
Beach Equipment:
Various size balls
Tennis balls
Beach buckets and spades
Hula hoops
Any plastic beach and water activities, animals, toys (that float), watering cans, etc
Musical instruments:
Tambourines
Bells
Rhythm sticks
Shakers
Anything else that is small and easily transportable to the beach!
Your generous donations will help create unforgettable moments for children in our Starfish Nippers Program. They'll learn, play, and grow with your support
If you have anything that you wish to donate,
Please contact Holly Foster
Email: starfish@islsc.org.au

---
Vale – Isabella Massaro
---
Isabella was a long time supporter and friend of ISLSC. Many members will remember Isabella as the original owner of the Goroke St caravan park and have wonderful memories of camps at the caravan park and staying there whilst on patrol.
Isabella helped contribute in many ways to make our club what it is today. We send our heartfelt condolences to her family and friends.
Life Members, Alan and Maureen share some memories of Isabella's support and the early days of ISLSC
Twenty five years ago Isabel was the owner of the Goroke St Caravan Park in Inverloch. She offered the newly formed ISLSC the use of her amenities and oval for the patrolling members to pitch their tents and set up camp. Her sheds were available for equipment storage in wet weather.
When the club ran the Luther Bronze Training course, the school took over. A huge marquee, tents galore and the camp kitchen with tables and chairs were set up.
The Club purchased a caravan and Isabel allowed us to park it rent free all year so any patrolling members who had nowhere to sleep could use it.
Most patrol members were Melbourne based and had to find transport to Inverloch and couldn't afford accommodation.
Those were the hard years. We then operated out of two shipping containers and then a third for ten years. She always supported the Club and treated our young members as one big happy family.
It's a sad time that Isabel won't be around to help us celebrate our 25th anniversary.
Thank you, our friend.
---
IRB Racing Team, Expressions of Interest
---
Expressions of Interests are now open for our 2023/24 IRB Race Team. The IRB team races during the winter season (April-June) competing in 5 rounds as well as the Victorian State Championships. We train throughout the summer season leading up to the first round. Racers are required to attend as many training sessions as possible in order to make up the 30 hours required by LSV Sport to race. The team upholds a supportive environment where we make special memories as a group.
If you are interested in participating in the race team this upcoming season please fill out the form below:
Look forward to seeing you all soon!
Brydie Smith
IRB Race Team – Team Manager
---
Membership Renewals for Season 23-24
---
Membership renewals, Nippers, SRC and Bronze Camp enrolments are all open.
To join or renew your membership, go to the membership page: https://islsc.org.au/membership and click the Join / Renew button.
Info about Nippers, Starfish Nippers, SRC and Bronze can be found here: https://islsc.org.au/lifesaving/education/
---
Please support our Sponsors
---