---
In This Edition
---
President's Message
Rescue Ready! – Patrols Commencing
Partner Updates!
Exciting New Partnerships
Membership Reminder
National Youth Working Group Appointment
Nippers – Seeking Volunteers
LSV – Rescue Water Craft Training
Training Updates & Information
Aquatic Sport & Competition
Grommet Gurus 23/24
25th Anniversary Celebrations – Save The Date!
Important Dates
Sponsors
---
President's Message
---
Hey Team,
As the golden sands of Inverloch eagerly await our return, It's great to highlight updates and exciting prospects awaiting us this upcoming season.
Firstly, congratulations to our appointed Patrol Captains, together with our dedicated Leadership team, they are gearing up to ensure our patrols are not just ready but exceptional. If you're keen to join this dynamic group, reach out to your Patrol Captain or Patrol Manager – opportunities still abound.
Our beach safety arsenal has received significant boosts. The trusty hard hull IRB has been meticulously pampered, set for action alongside our new Polaris Ranger 570, a stylish addition equipped to tackle windy days and carry our boards efficiently.
In partnership news, we extend a warm welcome to Ray White Inverloch, our major sponsor for the next five years. Their enthusiasm for supporting our Club is palpable, enhancing our commitment to community safety and spirit. Coast to Coast Conveyancing continues their invaluable support, ensuring our beaches remain safe and vibrant.
Additionally, our ties to the local community are strengthening. Silky Inverloch is set to run our kiosk, promising delightful culinary experiences. Their dedication aligns seamlessly with our values, making them the perfect fit. Valley Fire Security and Gipsan Hygiene join our network, reflecting our prudent resource management and community-first approach.
Save the date for our 25th Anniversary celebrations on Saturday, 6th January, a testament to our rich history and vibrant future.
Lastly, our competition is set to soar. From First Aid Challenges to beach carnivals, we invite you to participate and shape the future of our Club.
Exciting times lie ahead for the Club. Dive into even more details and information below.
I look forward to seeing you all on the beach, ready for an exhilarating season!
Glenn Arnold
ISLSC President
---
Rescue Ready – Patrols Commencing
---
How time flies with the patrol season only 3 weeks away, commencing on Saturday 11th of November. A massive congratulations and thank you to our appointed Patrol Captains for the coming season:
Patrol 1: Warren Cook
Patrol 2: Xavier Korbel
Patrol 3: Millie Gallagher
Patrol 4: Brydie Smith
Supporting these roles are our amazing Patrol Leadership team who have stepped up to ensure our patrols are adequately stocked with the knowledge, skills and resources to operate effectively. There are still opportunities to step into these roles so please do not hesitate to contact your Patrol Captain or Patrol Manager to express interest.
Version 1 of the patrol roster has been distributed via the Members Facebook page and personal emails.
Version 2 will be distributed in the coming weeks to incorporate the newly qualified Bronze members from Kew High School. If you missed out or forgot to request a patrol you can email our Patrol Manager Millie at patrolmanager@islsc.org.au
We are currently checking and servicing all our equipment ready for gear inspection across the long weekend. Our trusty Hard Hull IRB has received some well needed love and care and is ready for the many long hot days on the beach during patrol. Helping tow it along is our new and glamorous Polaris Ranger 570 with a windshield for those windy days and newly installed roof racks to carry our boards.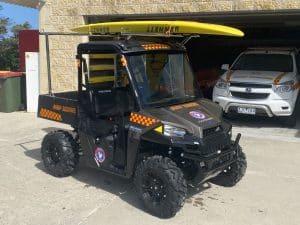 I hope you are as excited for summer as I am. I look forward to seeing you all on the beach.
David Morris
Club Captain
---
Partner Updates!
---
Ray White Inverloch: Our Proud New Partner!
We're thrilled to announce our exciting new partnership with Ray White Inverloch! Their generous support as our major sponsor for the upcoming season and the next five years means a lot to us. This collaboration allows us to enhance beach safety, support our lifesavers, and strengthen community bonds. Keep an eye out for their logo around the club and on our digital platforms. A warm welcome to Ray White Inverloch.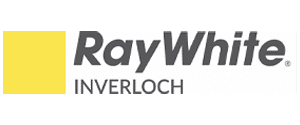 Coast to Coast Conveyancing on board again!
We're thrilled to announce the renewal of our partnership with Coast to Coast Conveyancing for the upcoming season! Their continued support helps us keep our beaches safe and vibrant. A huge thank you to Anthony and the entire team!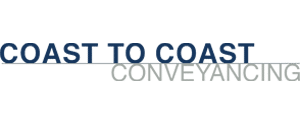 ---
Exciting New Partnerships Enhance ISLSC's Local Commitment
---
We're pleased to unveil exciting updates about ISLSC's suppliers. As part of our commitment to the ethos of Local First, we have engaged new partners that align with our values, enhancing the club's ties, ease, and security.
We're delighted to introduce Silky Inverloch as our new Kiosk operator. After meticulous evaluation, Silky emerged as the ideal choice, aligning perfectly with our club's values. Their local expertise promises significant benefits for ISLSC.
Furthermore, we've enlisted Valley Fire Security (Leongatha), replacing Wormald (Melbourne), offering prompt solutions and local expertise. Additionally, we've transitioned to Gipsan Hygiene (Leongatha) from Flick Hygiene Service (Melbourne), enhancing efficiency and cost-effectiveness, reflecting our prudent resource management.
These additions complement our existing collaborations with Top Marine (Motor Service), Inverloch Gas & Hire (Ute Service), Raneye Systems (Security Service), and Gipps Blast & Light Fabrication (Trailer and Tower Maintenance). Together, they form a robust network of local providers, embodying our commitment to community support.
We encourage all members to explore potential partnerships to enhance our club further. Your suggestions are invaluable.
Here's to a fruitful collaboration with our new partners, contributing to ISLSC's growth and success.
---
Membership Reminder
---
A reminder that membership fees are now due. All members, associates and actives, are encouraged to renew their membership. If you need any assistance with your renewal please contact membership@islsc.org.au
Remember that active members must be financial to patrol and also attend skills maintenance.
---
National Youth Working Group Appointment
---
Congratulations to Jackson Comrie who has been appointed to the Surf Lifesaving Australia National Youth Working Group. This is a wonderful opportunity for Jackson on top of being awarded Youth Lifesaver of the Year at this year's Life Saving Victoria Awards of Excellence.
The purpose of the Youth Working Group is to represent youth member views, needs, concerns, values and ideas by engaging youth members to shape the future of the organisation for the next generation. Also a wonderful opportunity to network with young lifesavers from around Australia. Well done Jackson!
---
Nippers – Seeking Volunteers!
---
As we are gearing up for another season of nippers, we are still seeking volunteers for the 2023/2024 Nippers Season. If you are interested and available to help please email Lucy Chambers at nippers@islsc.org.au.
Positions Include:
Beach Coordinator – Assists with daily checks of surf conditions and coordinates the set up and pack up of nippers.
First Aid Officer – Must have First Aid qualification and be available on the beach and via a radio during the program to provide first aid.
Water Safety Coordinator – Coordinates water safety allocations to age groups, facilitates sign in/sign out for water safety, looks after water safety vests and keeps records of water safety personnel's volunteer hours.
A reminder that Nippers and Starfish enrollments close on the 30th of November.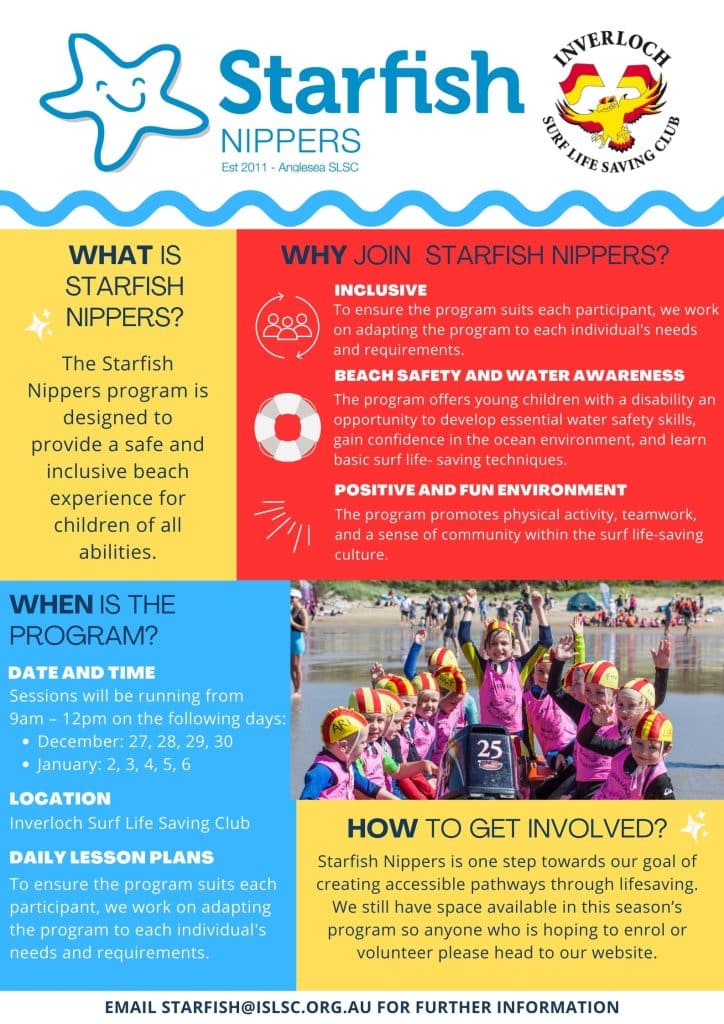 ---
LSV – Rescue Water Craft Training at Inverloch
---
Over the last 2 weekends of October, Inverloch has hosted LSV's RWC (Jetski) Bass Region training course. A keen group of 8 braved somewhat average conditions in the inlet to develop their skills and competence as Rescue Water Craft operators. Inverloch was chosen by LSV as a perfect place to run the course due to our changing inlet conditions and tides, making it challenging for the operators. By hosting the course, participants have also stayed at the club. We had people from Woodside, Black Rock, and Portsea to name a few, and they were all very grateful to us for hosting the course. We are promoting this as an annual course to be run at Inverloch moving forward.
---
Training Updates & Information
---
Requal/Skills Maintenance Dates:
Inverloch will be running the following four requal opportunities this season. You must requal before the 31st December 2023 or your awards will expire, after this date you cannot patrol until you have requalled. We will try to run some requals during patrols, dates to be confirmed. If you cannot make these dates, please find an alternative club to requal at via the member training portal.
Saturday 4th Nov 10am to 1pm
Sunday 19th Nov 11am to 2pm
Sunday 17th Dec 10am to 1pm
Thursday 28th Dec 2pm to 5pm
Dates are subject to change based on signup numbers. Signup is through the member training portal. You must have completed your pre learning prior to attending or you will not be signed off.
Any trainers who are able to help out on these days, we would love your help! Please email chiefinstructor@islsc.org.au.
Trainers and Water Safety Expressions of Interest:
If you would like to help out with training this season, please express your interest via the link below. You do not need to hold your TOC to help out with training.
Lucy Tate
Chief Instructor
---
Aquatic Sport & Competition
---
New Opportunity: Lifesaving First Aid Competition
Have a mate? Can you do First Aid? Want to be the best? LSV runs annual competitions to see which club has the best First Aiders. These events operate in a 'competitive scenario' fashion, where competitors are presented with a scene and must diagnose and treat any issues they are faced with (exactly like the scenarios you have been involved in or see during our training courses). Multiple age groups present opportunities for everyone to get involved: (compete in teams of 2)
U15
U17
U19
Open (yes, senior patroller or parent, I'm looking at you)
Not sure if you want to compete at the top level? Friendly First Aid competitions will be taking place at Inverloch across summer. This is a fantastic opportunity to get involved in sport, especially if you're not too keen on smashing out a beach run. I'd love to see our members developing their skills and representing the club. If this is something you'd be interested in, or want more info, shoot me an email at competition@islsc.org.au.
Upcoming LSV Sport:
Beach Carnival #2, 10 Nov @ Mordialloc
VSRL Carnival #2, 11 Nov @ Port Campbell
Youth/Senior Carnival #1, 18 Nov @ Port Campbell
VSRL Carnival #2, 25 Nov @ Barwon Heads
Junior Carnival #1, 2 Dec @ Ocean Grove
Youth/Senior Carnival #2, 3 Dec @ Ocean Grove
Upcoming Around Inverloch:
Parkrun, every Saturday 8am @ Rotary Centenary Park (see https://www.parkrun.com.au/inverloch/)
You can participate (for free) or volunteer to assist in running the event (like ISLSC's Kirk De Marchi!). This is a great way to be more involved in your community and help reach your fitness goals in the off-season.
Know of other upcoming local sporting events? Let me know so they can be included in future newsletters!
Have Your Say
The Competition team wants to know what you want to see happening around our Club. Some members want a giant beach obstacle course. Some members want board training sessions. Some want to compete at the State level. Some just want to have fun.
If there's a sport or competition event you know of and want implemented, let us know! Unlike the rest of the Senior Leadership Team committees, Competition doesn't have as many pesky responsibilities over the patrol season, meaning we have more time to give you exactly what you want!
Get in touch with me about any of the above at competition@islsc.org.au 🙂
Xavier Korbel
Competition Coordinator
---
Grommet Gurus 23/24
---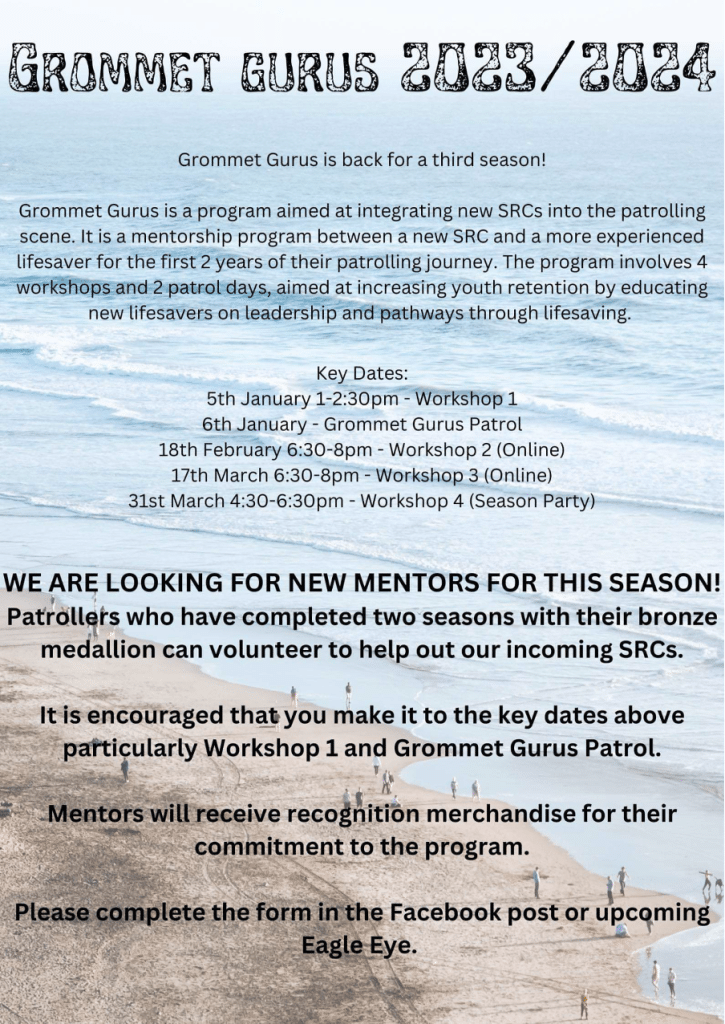 Members interested in being a mentor for the Grommet Gurus program please complete this form:
---
25th Anniversary Celebrations – Save The Date!
---
Inverloch SLSC is turning 25!
We are turning 25 and are looking forward to celebrating the occasion with members past and present.
Save the date – Saturday 6th January
Keep an eye out for further details on Facebook and in the Eagle Eye.
In the meantime spread the word amongst your family, friends and current and past members.
---
Important Dates
---
Kew Bronze Camp: Tuesday 31st October- Friday 3rd November
First Patrol for the Season: Saturday 11th November
Mental Health Matters Workshop: Saturday 18th November
Patrol Leadership Team Day: Saturday 18th November
Inverloch Bronze Camp: Saturday 10th- Saturday 16th December
IRB Crew and Driver Courses: First week of Jan (exact dates TBC)
25th Anniversary Celebration: Saturday 6th January
Cape Paterson – Inverloch Nipper Carnival: Sunday 7th January
Remember if you are wondering what events are taking place at the club the season calendar is the first place to look. It can be found on the website under the events tab. https://islsc.org.au/season-calendar/
---
Please support our Sponsors
---