---
In This Edition
---
President's Message
Sponsor Announcement
Pink Patrol
ISLSC is turning 25!
Nippers Wrap-Up
Disabled Surfing Event
Life Saving Sports
Member Training
Member Development
Patroller News
Around the Club
---
President's Message
---
Hi Team
Where did January and the holidays go already? What a crazy season so far. It's hard to believe just how much has happened since the season began. We have had magnificent engagement in all programs; Nippers, SRC, Bronze, IRB, additionally we have held successful competitions between Cape Paterson and Invy nippers, and our own Club Championships.
The volunteers in all areas have done an amazing job so far. Trainers, Bar, Clothing Store, Water Safety, Age Managers, Nipper Coords, Maintenance and general running around and admin. This club does not function without these very important people, so please reach out to anyone you see volunteering and say thanks. If you'd like to get more involved, please reach out to me or any other Board member. We appreciate your help.
A big thanks also to our tin rattlers. This year's tin rattle raised in excess of $3000. This was a great result! The addition of card readers, to facilitate donation via card, was strongly supported by the community.
In December ISLSC was incredibly fortunate to receive a donation from Giving Hope, a family foundation of the MacKay family. Their generous donation of $6500 will help support a number of initiatives relating to the development and retention of our patrolling members.
Donations to ISLSC are tax deductible. If you would like more information please contact our Treasurer, Jenny Perera treasurer@islsc.org.au.
The season is not over yet! We still have a number of events scheduled, such as Bass Coast Pink Patrol Brunch.
I encourage you to join our Inverloch Surf Life Saving Club Facebook group for members, and to follow the Inverloch Surf Life Saving Club – Community Page. These pages will keep you up to date with everything going on around the Club.
Looking forward to seeing you on the beach soon.
Glenn
---
New Sponsors – Coast to Coast Conveyancing
---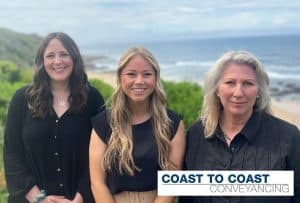 This season we welcome Coast to Coast Conveyancing to our ISLSC family. You may recognise some of their faces from around the club.
Coast to Coast is a fully licensed law firm with offices in both Wonthaggi and Melbourne. They have all your Conveyancing needs covered and can support in other areas of law like Family Law, Wills and Estates and Commercial Law. Their friendly team of Conveyancers Tania, Katrina and Kyra are supported by their Principal Lawyer Anthony Murdoch. They are here to help with some of the most confusing and difficult parts of buying and selling a property. You can contact them via their email, phone, website or drop into one of the offices for a friendly chat and some free advice.
office@coast2coast.net.au – 03 5672 3345, Shop 4, 33 – 39 McBride Ave, Wonthaggi.
---
Pink Patrol
---

Pink Patrol – Saturday 18 February 2023
Pink Patrol is a special patrol celebrating the contribution of girls and women to lifesaving. Active female patrolling members, as well as men and non-binary champions, are welcome to participate.
The Pink Patrol initiative aims to acknowledge and celebrate the many contributions women past and present have played in lifesaving. It is hoped the positive role modelling will inspire and empower future generations of women and girls to confidently pursue opportunities in lifesaving and aquatics.
---
Pink Patrol Brunch – 9am Saturday 18 February 2023
Join us to celebrate women in lifesaving at the 2023 Bass Coast Pink Patrol Brunch at Inverloch SLSC.
The morning will involve a grazing brunch, a panel of incredible guest speakers and the chance to chat with other inspiring women in lifesaving. Brunch will finish by 12pm, allowing everyone to get back to their clubs in time for patrol.
Tickets are $40 per person, with profits donated to the 'Seven Women' foundation. All women, men and non-binary champions of change are welcome!
Bookings close 15 February 2023 – TODAY!
Tickets: Bass Coast Pink Patrol Brunch – Tickets
Any enquiries please contact Ella Arnold at development@islsc.org.au
---
ISLSC is turning 25!
---
Next summer will be ISLSC's 25th season. As we approach this signficant milestone we are seeking expressions of interest from members who wish to join a sub-committee or organise and coordinate the celebration.
The 25th year anniversary of the Inverloch Surf Lifesaving Club is a momentous occasion that provides us with an opportunity to reflect on our achievements, celebrate our history, and recognize the contributions of our members. To ensure that we make the most of this momentous occasion, we are looking for enthusiastic and committed members who would like to get involved in the planning and coordination of the celebration.
If you are interested in being a part of this special occasion, please send an expression of interest to communityrelations@islsc.org.au.
---
Nippers Wrap Up
---
We had a successful year at nippers with over 220 nippers enjoying the surf and sand with the help of over 50 water safety and 22 age managers stepping up to create a safe and happy program. Over the 2 weeks, all of the children learnt age appropriate life saving skills and were all smiling as they came off the beach. The weather was set to try us and we congratulate all the nippers aged 5 to 13 for staying warm when it was cold and raining and for not getting burnt when the sun was in full force!
We are proud of all the children this year for achieving something new this season, whether it was getting over a fear of waves, making the best sandcastle, swimming round their first can or taking on the waves, and boarding in record speed.
Neve Murley & Xavier Kenwood became recipients of our Nipper of the Year awards and the season finished with a great competition run by Cape Paterson where Inverloch Nippers & water safety were fantastic at showing everyone what good sportspeople we are.
---
Nippers Photos
This year we had two amazing photographers capturing our nippers in action. You can access these photos via this Dropbox Link dropbox.com
Given the enormous amount of work that went into taking and editing these beautiful photos we ask that you make a donation to the club in acknowledgement of these efforts. Donations can be made here.
A massive thanks goes to our wonderful photographers. Theirs was a huge time commitment throughout nippers as well as post event editing and posting! We appreciate you!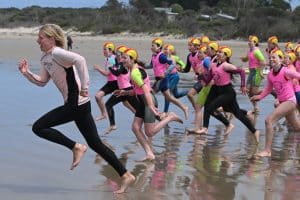 ---
Disabled Surfing – HUGE Success
---
Inverloch Surf Life Saving Club once again supported the Disable Surfers Association's event which was held on January 22nd – the first of two events this year at Invy. Around 80 disable surfers and a couple of hundred volunteers turned up to a sunny Inverloch day with great waves and warm weather. Smiles were endless on the faces of participants and volunteers, making it a very successful day. As usual the army of volunteers (including our own members) made it a smooth operation from set up to bump out. A big thank you to everyone on the beach that day, IRB training was being assessed, the surf schools worked with us in their set ups and the flags were positioned in such a way to allow participants to gain easy beach access. We made some very special people's summer – well done to all who participated and worked to make it a great day.

---
Life Saving Sports
---
Bass Coast Nippers Carnival
The Inverloch Vs Cape Patterson Nipper Competition was a much-anticipated event that brought together Nippers of U8-U13 from the 2 neighbouring clubs. The competition included various tailored events such as flags, sprints, boards, and more, focusing on participation and giving everything a red hot crack.
The event was significant as it marked the return of interclub nipper carnival after many years. The sight of so many smiling faces and the participants giving it their all was a heartwarming experience. The competition was an excellent showcase of the talented young nippers and their passion for the sport.
Another highlight was the exceptional water safety and age managers that came down to help. The hard work and time contributed by these members throughout nippers and on the day, made the competition a fantastic success. The competition was a great opportunity for the nippers to showcase their skills and for the community to come together and enjoy the spirit of the sport.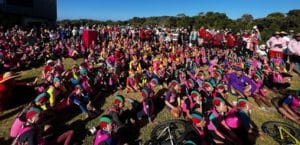 ---
Club Championships
The Inverloch Club Championships were a great success, with a large turnout of athletes competing in various events. The atmosphere was immensely positive, with a real sense of community and camaraderie amongst the participants. It was inspiring to see so many people of all ages and abilities having a go, putting their best foot forward and pushing themselves to their limits. Whether they were returning competitors or first-timers, everyone gave it their all and it was a joy to watch.
The events included a mix of Water and Beach events Including A swim, Board, 1km run, Sprints, flags and a very competitive patrol beach relay. Thank you to those that helped on the day and I can't wait to see everyone next year. Winners for each age group will be announced at presentation evening.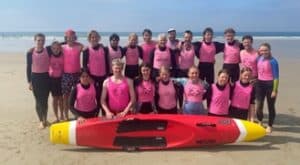 ---
IRB Raffle
The Inverloch IRB Racing Team Raffle is underway with a wide range of prizes to be won! Buy your ticket the next time you're at our fantastic Deck Bar. Your participation will help the team purchase new equipment and get us closer to victory!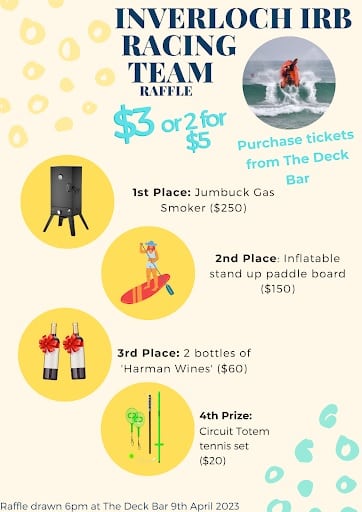 ---
Member Training
---
A wild few months within training! Here is a quick rundown…
We have run three Bronze programs this season. Starting off with Kew High School camp in November, the Inverloch Bronze camp in December and let not forget the Adult Bronze course which was run over two weekends also in December. As a result, we welcome 40 new bronzies who are already enthusiastically involved in patrols and gaining additional awards.
Our SRC course was once again run alongside the nipper's program. This season 30 eager SRCs joined our patrols to keep Inverloch safe.
This season everyone got around IRBs! And we love to see that. With the help of some amazing trainers and assessors we have delivered 2 courses so far this season. The first one in November with 4 members gaining their Crew awards. More recently a second IRB course resulted in 3 drivers and a record breaking 16 crews training 7hrs a day over four days to get their respective awards.
Here's how many members have completed their skills maintenance this season. A huge shoutout to everyone who has participated in a skills maintenance (Requal). Without your eagerness and commitment our club wouldn't have the diversity of knowledge and experience needed to patrol the beach!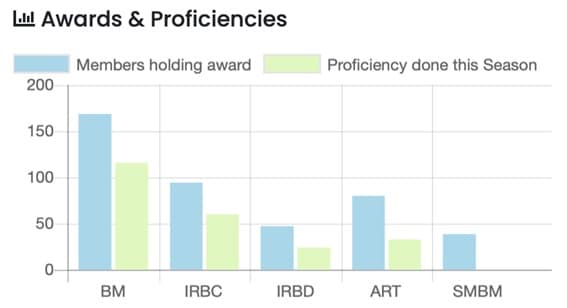 A massive thank you to all trainers, water safety and anyone behind the scenes in training. We have a fantastic team and couldn't run any of these courses without the incredible commitment of our volunteers.
---
Member Development
---
Youth Involvement Program – YIPs
Our Youth Involvement Program has really taken off this season with over 20 new young active members signing up to participate. We have held a few events this season including our first Youth Forum, in which we discussed and planned with our youth members what it's like to be a young person at ISLSC and workshopped ideas of how we can improve our youth engagement.
Our second YIPs Patrol started off the new year with a boom, with young patrollers being mentored into patrol leadership positions by our more experience members. We are looking forward to running some more fun activities over the rest of the season, on top of the board paddle which had a fantastic turnout earlier in the month. If you would like to sign up to the YIPs program please follow this link https://islsc.org.au/juniors/yips/ and any queries please reach out yips@islsc.org.au.
---
Grommet Gurus Mentorship Program
Grommet Gurus has started strong this season with 15 Grommets and 12 Gurus joining the program. In the first workshop, participants spent the time meeting their mentors through a range of fun activities and goal setting. Battle of the Air Bands seemed to be a hot favourite with patrol groups selecting a song and lip syncing with props found around the Club. Our first ever Grommet Guru Patrol was held on the 8th of January. Grommets were grouped with their mentors in rotations throughout the day. They got to experience being on waters edge, roving, tower and free time. This has prepared our Grommets for future patrols with their patrol groups.



What's Next?
Workshop 2 will be held online on the 19th of February at 6pm.
In this workshop, participants will be learning about leadership and teamwork in lifesaving, as well as hearing from Lachie Lansdown, World Champion Prone Paddler, who also lifeguards across the coast of Queensland. Those NOT in Grommet Gurus are WELCOME to attend this workshop and hear Lachie's insight to lifesaving!
Join the session here.
---
2023 SLSA National Leadership College
Congratulations to Lucy Tate who was selected to participate in the 2023 Surf Life Saving Australia National Leadership College in Sydney. The College is an annual leadership and development program recognising young leaders in Surf Life Saving aged between 20 and 30 years.
The week-long intensive course provides an exciting opportunity for members to further develop their leadership skills and continue to positively contribute to the success of Surf Life Saving. The program challenges participants intellectually, socially, emotionally and physically, providing opportunities to learn new skills and facilitate personal growth. The skills gained are designed to be taken back to clubs and into other areas of the participant's daily life.
Well done Lucy, we look forward to hearing about all that you have learnt!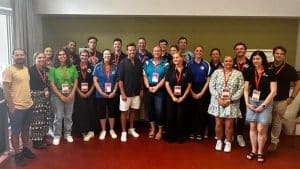 ---
Junior Development Opportunity – Under 13 Development Camp
The U13 Development Camp is an opportunity for youth members to develop their interpersonal skills, broaden their understanding of lifesaving and support participants as they progress through their lifesaving journey. Mentored by current outstanding volunteer leaders, this 3 day camp offers participants an opportunity to learn, share and network with other junior lifesavers from across the state.
The camp will be taking place from Friday, 31 March to Sunday to 2 April 2023 at YMCA Camp Lake Dewar, Myrniong VIC
Applications close Tuesday, 28 February 2023. Apply HERE.
---
Patroller News
---
From the Club Captain
As peak season wraps up, we want to thank all our volunteer patrollers. This summer has been very busy on the beach. Thanks to the dedication and skills of our volunteers, the 22,000+ visitors to our beach (so far this summer) have all returned home safely to their families. It has been awesome to see great vibes on all patrols and a lot of new and upskilled patrollers in our ranks. We hope all of our patrollers keep showing up to patrols, because as the beach gets quieter, patrol becomes a fantastic opportunity to build upon your training and enjoy some quality time with your patrol mates.
---
Patrollers of the Month
Congratulations to our patrollers of the month!
December – Lucy Tate
Lucy was an exceptional contributor to the surf club in December. After training both the Kew High School and Inverloch bronze camps, Lucy filled in to be Patrol Captain of Patrol 4. She also presented a strategy to the board on her ideas to make the club more inclusive for our younger members. Lucy was the head trainer for the SRC program, and in February, attended SLSA's National Leadership College in Sydney.
January – Jackson Comrie
Jackson stepped up during January, having filled in for the Patrol Captain for patrol 2 when the PC was unavailable. He did this with ease and fulfilled the task brilliantly. This season has also seen Jackson step up into both the first aid officer and the junior club captain role, in which he organised a number of events for junior members. He also assisted with bronze camp and SRC training.
---
From the Junior Club Captains
It has been an unforgettable summer with numerous exciting youth events. Our season kicked off with the long overdue renewal of the patrol lounge photo wall. The wall is filling up and we encourage all patrollers to add your own photos to the wall!
Towards the end of the summer, a 'Youth Night' was held to welcome new SRC and Bronze candidates. It was an amazing opportunity to bond with friends, engage in some trivia, and indulge in some delicious pizza. The high turnout was amazing to see and we were thrilled to have so many people participate.
To wrap up the season, Junior Club Captains Lily and Jackson are planning an end-of-season party to celebrate everyone's achievements. If you have any suggestions for party themes, please do not hesitate to reach out to Jackson Comrie. We can't wait to see you all again soon!
---
Around the Club
---
The view from The Deck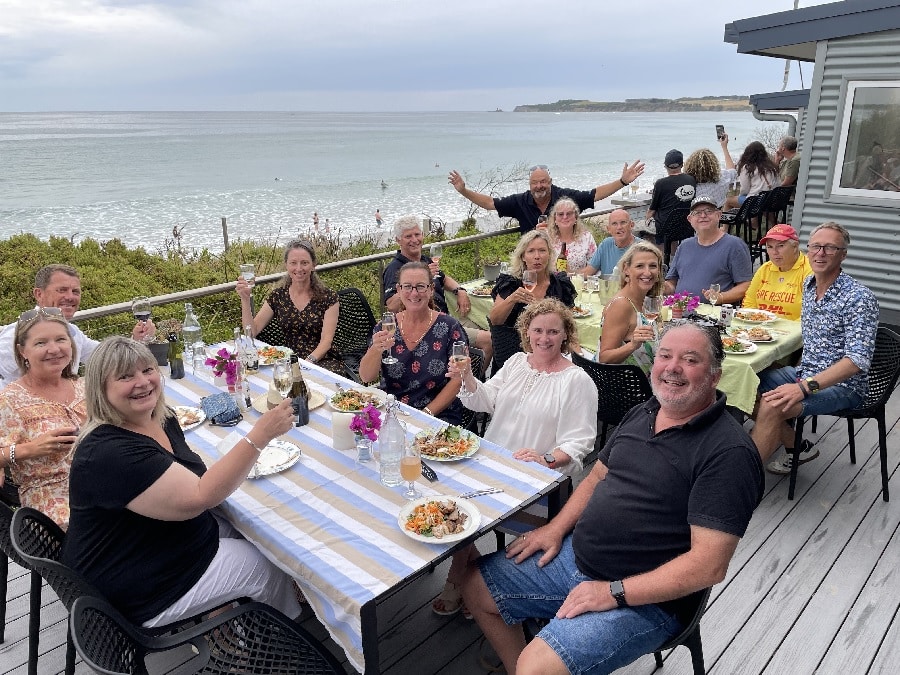 Cheers to a Record Season! Woo Hoo!!
Thanks to our RSA bar volunteers so far – Adrienne, Aiden, Alan, Chris, Claudia, Colleen, Dan, David, Di, Glenn, Glenys, Haje, Heath, Jenny, Jo, Kate, Ken, Kerralie, Kim, Lorraine, Maureen, Robyn, Sumith, Tim, Warren C, Warren O, Xavier.
Excellent to see the locals at The Deck and even telling their friends about us. The weather shone bright and provided glorious sunsets with fairy floss skies. For those in the know, an Invy summer is never complete without puffer jackets and beanies – so this summer did not disappoint! Fun times up on the deck still continued.
Countless smiles and connections, facilitated by drinks, BYO food & a chilled relaxed vibe. Huge shout out to:
Lime & Co – such a welcome addition to our offer
Ben Perera – top notch tunes & smooth vocals. Read the crowd and even got that dance floor happening – Well done!
Impromptu gatherings – neighbours connecting after many years living in Invy
Nipper Presentation Night – Award for best Bar Night!
"Where are the other cold bottles of beer? Uh oh… have we run out of cold beer?!"
"OMG. We sold how many bottles of bubbles?!"
Opening times – Friday & Saturday evenings from 4pm, until end of April.
Hope to see you up here soon,
Warren Olivier
---
A note from the Kiosk@Invy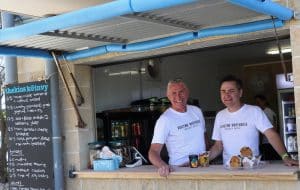 As summer draws to a close, Bruce and I can begin to reflect on what has been an amazing experience running the KioskatInvy. We are so thankful how the ISLSC family and the Inverloch community have embraced us and our vision for the kiosk.
We are nothing without our team who brought their youthfulness, energy and personalities to what can be a very stressful environment. Nelson, Liv, Sarah, Tom and Fred engaged with professionalism way beyond their young years. We hope that they have learnt skills that will take them forward in their futures. And if you are ever in Melbourne we would be happy to have you at Red Brick Cafe.
Bruce and I would also like to thank the members of ISLSC namely Glenn and Chris who guided us so sagely and helped with our IT needs. Thanks Glenn too for arranging the electricity work so we could bring down our monster coffee machine.
Even though summer is fading – we will still be operating every Saturday and Sunday and will be open the whole of the Easter Long Weekend. So come down, grab a coffee and a delicious treat. And if you are up in Melbourne, pop into Red Brick Cafe in Surrey Hills and say "hello!"
Chris Kabay and Bruce Facey
---
Please support our Sponsors
---