---
In This Edition
---
President's Message
Presentation Night Information
Venus Bay Harriet Brown Workshop
Kongwak Primary School Fete
Patrollers of the Month
Grommet Guru's
SLSA National Leaders' Masterclass Program
Advanced Resuscitation Techniques
Kiosk Closed
---
President's Message
---
Hey Team
I hope you all had a great Easter break. As we approach the end of another jam-packed season, I want to thank you all for your continued support and commitment to our club. It has been a season full of challenges and achievements, and I am incredibly proud of what we have accomplished together.
Our annual presentation night is just around the corner. Mark your calendars for April 22nd as we come together to celebrate the hard work and dedication of our patrollers, competitors and volunteers. It promises to be a fantastic evening, and I look forward to seeing you all there. We do need your RSVP for catering numbers, so head to the website for more info.
You may have noticed that our club has launched a brand new website, which will provide a more seamless and user-friendly experience for our members. It is designed to be an all-in-one platform where you can find all the latest news, events and working documents and forms. Let us know what you think.
Finally, as we prepare for our upcoming 25th season celebrations, I encourage all members to get involved and help us make it a truly unforgettable experience. We have some exciting plans in the works, and I am confident that with your support, we can make this milestone anniversary one to remember. Keep an eye out for more information on the website.
Glenn Arnold
---
Presentation Night Information
---
Come and join us on Saturday 22nd April 2023 for our Inverloch SLSC Presentation Evening.
Time: 6:30pm Arrival for a 7:00pm start.
Dress Code: Smart Casual
The Bar will be open, All members welcome.
As we need to confirm numbers for catering purposes, bookings are essential. Click here to make a booking.
---
Venus Bay Harriet Brown Workshop
---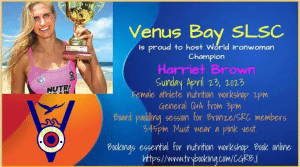 On Sunday April 23rd, Venus Bay SLSC is hosting Harriet Brown for a workshop and board paddling session. Harriet is a World Ironwoman Champion, 2 x Nutri-Grain Ironwoman Series Champion, and 3 x Molokai to Oahu Paddleboard Champion & Record Holder.
Harriet started her Lifesaving career at Ocean Grove in Victoria before moving to QLD to compete professionally.
Bookings are Essential! Click Here To Register.
---
Inverloch Kongwak Primary School Fete
---
Ione McKenzie and Mark Karutz represented the club at the Inverloch Kongwak Primary School Fete in March, which featured a popular spinning wheel and generous lolly donation from Treat Time.
The event was successful, and the Principal expressed interest in collaborating with the club. A family won a membership for next year, and Ione is already planning for next year's event, which she hopes will have two sites to promote water safety, nippers programs, and streetwear clothing. Overall, it was a successful event, thanks to Ione's hard work and dedication.
---
Thanks to Jenny & Nick
---
The Inverloch Surf Lifesaving Club has been fortunate to have two exceptional members on its board, Jenny Perera as Treasurer and Nick Perera as Club Captain. They have dedicated countless hours to ensure the smooth running of the club and have been instrumental in its success.
On behalf of the board and the club, we would like to express our heartfelt gratitude to Jenny and Nick for their service and dedication.
---
Patroller of the Month
---
February Patroller of the Month: Alexander Duncan.
Alexander was the IRB driver who responded to two incidents on Sat 4th Feb: the first was the successful recovery of a large kite that had been lost by a kite surfer. Alexander conducted a search at the request of LSV comms around Andersons Inlet, locating the kite caught in the Trees on the Venus Bay side, removing a significant marine hazard.
Later that day, he responded to a call from LSV and Lifesaver 30 (Westpac rescue helicopter) to assist two Kayakers – one Kayak broke in half just outside the mouth of Anderson Inlet, putting the paddler at serious risk.
Alexander displayed great judgement and driving skills in extremely difficult weather conditions for a successful outcome for both tasks. Well done, Alexander!
---
March Patroller of the Month: Brydie Smith.
Brydie is Patrol 4's Patrol Captain. Having recently moved patrol teams, Brydie has done a fantastic job getting to know her new team.
She has organised group events every patrol weekend and made an effort to educate and engage our newest patrollers by facilitating lots of training and rotations on patrol. Brydie's communications and pre-patrol organisational skills have been superb. She has displayed so much commitment and enthusiasm and is doing a fantastic job! Thank you, Brydie!.
---
Grommet Guru's
---
Grommet Gurus have completed two online workshops with Brighton LSC. All participants heard from Lachie Lansdown, a World Champion Prone Paddler and Lifeguard for Queensland Life Saving. Lachie spoke about his journey in lifesaving and as a prone paddler whilst giving valuable advice on patrolling for both our Grom ets and Gurus who attended. We also heard from various guest speakers from Life Saving Victoria about all the lifesaving operational services LSV has to offer. They spoke on what the service is and how you can get involved.
The final Grommet Gurus workshop for the season took place on Good Friday. We were lucky enough to enjoy some food whilst chatting about how our season went. We also discussed improvements to make for the program and also the potential for a new role in the program for SRC's that have a buffer year before completing their Bronze medallion. We hope all involved had a great time and season and look forward to Grommet Gurus 2023-24!
If you are interested in the program please contact grommetgurus@islsc.org.au for more information.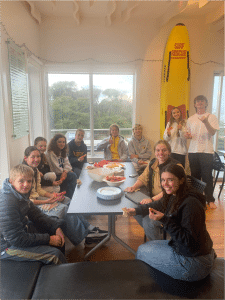 ---
SLSA National Leaders' Masterclass Program
---
Expressions of interest are now being taken for the 2023 National Leaders' Masterclass, which will take place at the University of South Australia from 26 to 30 July. Members aged 30 or older who hold a senior leadership position in Surf Life Saving are eligible to apply. Multicultural and Indigenous scholarships are available.
The Masterclass is an annual leadership and development program for SLS members who have attended a state leadership program or a similar program through work or study. The aim is to develop leadership skills, build strategic thinkers, and create advocates for change who can contribute to SLSA's mission statement.
Applications close on 15 May 2023.
Click here for more information.
---
Advanced Resuscitation Techniques
---
An advanced resuscitation and first aid course were held at the club on Easter Saturday. Sixteen members learnt skills in complex airway management and major haemorrhage controls, along with upgrading their general first aid skills. Thanks to everyone that attended and especially the trainers for giving up their time.
---
Kiosk Closed
---
The Kiosk's final weekend coincided with the Easter break, bringing an end to a wonderful summer season. Members Bruce, Chris, and their team worked tirelessly to provide excellent service and a memorable experience for all visitors. They made the Kiosk a popular destination for locals and tourists alike.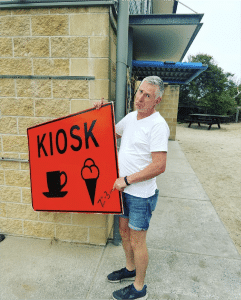 ---
Please support our Sponsors
---