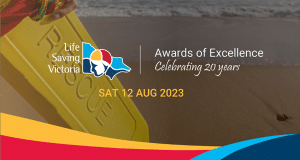 Inverloch SLSC is delighted to extend our heartfelt congratulations to our remarkable nominees for their well-deserved nominations in the prestigious LSV Awards of Excellence 2023. Their unwavering dedication, remarkable skills, and exceptional contributions have left an indelible mark on our club and community.
Brydie Smith, Ella Arnold, Jackson Comrie, Lucy Tate, and Xavier Korbel have each demonstrated extraordinary commitment and excellence in their respective roles. Their passion, innovation, inclusivity, leadership, and tireless efforts have set them apart as exemplary individuals within our SLSC family.
As we eagerly anticipate the award announcements, we wish to express our sincerest good luck and well wishes to all the nominees. Your achievements have not gone unnoticed, and we are immensely proud to have you represent our club at this esteemed event. Regardless of the outcome, you are already winners in our eyes, and your contributions have enriched the fabric of our SLSC.
The Awards of Excellence 2023 holds great anticipation, and we will be standing by to cheer you on as your names are announced. It is a celebration of your exceptional abilities and the remarkable impact you have made.
On behalf of the entire Inverloch SLSC, we congratulate our nominees once again and extend our best wishes for a successful evening. Your achievements inspire us all, and we are grateful for the positive influence you have had on our club.
Stay tuned for updates on the Awards of Excellence 2023 taking place on Saturday 12th August as we come together to applaud and honour our incredible nominees!
If you would like to attend the event, tickets can be purchased via the link below: