---
In This Edition
---
President's Message
ISLSC Presentation Night
LSV Awards of Excellence
Pride Rescue Board
Starfish Nippers
Ready 2 Lead
18-25 Mentor Mentee Program
IRB Racing
Volunteer Positions Vacant
AGM 2023
---
President's Message
---
Hello Team
I hope you're all keeping warm and cosy as we find ourselves in the heart of winter. Despite the chilly weather, I wanted to share some updates from our club. Our dedicated team of painters, builders, plasterers, and electricians have been braving the cold to work on improving our clubhouse, and their efforts are coming along nicely.
One of the significant changes we've made is upgrading the lighting. Thanks to member Ian Boaler for volunteering his time and expertise as we bid farewell to the old fluorescent lights and embraced energy-efficient LED lights throughout the clubhouse. The new lighting not only brightens up our space but also adds a touch of modernity and warmth.
The board and committees are actively involved in planning for the exciting season ahead. Tentative training dates are being finalised to ensure our members are well-prepared for the upcoming activities. Furthermore, maintenance work on the Patrol tower is nearing completion, guaranteeing a safe and functional environment or our Patrollers. In anticipation of the new season, orders for next season's streetwear and uniforms are in progress, ensuring our members will look sharp and unified. Moreover, the planning for the grand celebrations of our 25th Season is well underway, promising a memorable milestone event for our club. There's a buzz of anticipation in the air as we eagerly prepare for the fantastic experiences that await us in the coming months.
Now, as we move forward, it's important to keep our community spirit alive. I want to remind you all about our upcoming Annual General Meeting (AGM) on the 29th of July. This is a vital gathering where we come together to discuss club matters, share ideas, and make decisions that shape the future of our community. Your presence and input are invaluable, so please save the date and join us for this important event.
Stay warm and embrace the joys of winter, knowing that our clubhouse is evolving to better serve our community. Looking forward to seeing you at the AGM!
Glenn Arnold
---
ISLSC Presentation Night
---
In April, we had a positive turnout gathering to celebrate the end of season at ISLSC's Presentation Evening.
A huge congratulations to our award recipients:
Most Outstanding SRC – Elke Pearson
Rookie Of The Year – James Harman
Most Improved – Brydie Smith
Patroller Of The Year – Jackson Comrie
Chief Instructor Award – Cassie Carman
Ansel Bolton Award – Lucy Tate
Most Valuable IRB Racer – Millie Gallagher
Presidents Award – Warren Olivier
Presidents Award – Kirk De Marchi
Nipper Helper Of The Year – Chris Tatnall
Patrol Of The Year – Patrol 2
---
LSV Awards of Excellence
---
Inverloch SLSC is delighted to extend our heartfelt congratulations to our remarkable nominees for their well-deserved nominations in the prestigious LSV Awards of Excellence 2023. Their unwavering dedication, remarkable skills, and exceptional contributions have left an indelible mark on our club and community.
Brydie Smith, Ella Arnold, Jackson Comrie, Lucy Tate, and Xavier Korbel have each demonstrated extraordinary commitment and excellence in their respective roles. Their passion, innovation, inclusivity, leadership, and tireless efforts have set them apart as exemplary individuals within our SLSC family.
LSV Awards of Excellence 2023 is taking place on Saturday 12th August – keep an eye on our socials for updates and photos from the night.
---
Pride Rescue Board
---
Just in time for the end of the season, ISLSC received our new Pride Rescue Board. This board is a representation of ISLSC's commitment to being inclusive of and welcoming to the LGBTQIA+ community. Thank you to Bass Coast Shire Council for helping us purchase this board and enabling us to show our support for all our members.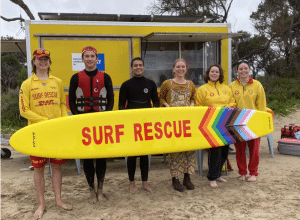 ---
Starfish Nippers
---
Exciting Announcement from ISLSC!
Attention all nippers water safety, age managers, and aspiring Starfish participants! We are thrilled to announce that the upcoming 23/24 season will see the launch of our new Starfish Nippers program, running alongside our regular Nippers program!
Starfish Nippers is a fantastic initiative aimed at providing a safe and inclusive beach experience for children of all abilities. It's designed to introduce young individuals with special needs or disabilities to the joy of the ocean while teaching essential water safety skills.
This program aims to create a supportive and inclusive environment where every child can participate, grow, and have fun. By partnering with our dedicated water safety and age managers, we will ensure that each Starfish participant receives the attention and guidance they need to flourish in a beach setting.
Expressions of interest for area managers, water safety and participants along with more information about the program will be published as of Aug 1, in the meantime please email starfish@islsc.org.au for any questions.
If you have experience or a keen interest in supporting children with special needs, this is an amazing opportunity for you to make a positive impact and foster an inclusive beach culture. Don't hesitate to spread the word and share this post with anyone who might be interested. Together, we can make a difference and create lasting memories for every child at ISLSC!
---
Ready 2 Lead
---
Congratulations to Lucy Tate who graduated from Life Saving Victoria Ready 2 Lead Program – a program for women in leadership roles, run over 2 months by the LSV Women in Lifesaving Panel.
The program is a multi-agency event, with 47 women across SES, CFA, FRV, LSV and aquatic industry partners participating from across the state. All coming together to add to their leadership tool kits, build valuable relationships and committing to developmental challenges during the program and beyond..
Congratulations Lucy, we can't wait to see what the future holds for you!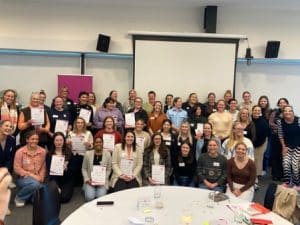 ---
18-25 Mentor Mentee Program
---
The Mentor Program has concluded for the 2022- 23 Season!
Congratulations to Lucy Tate, Xavier Korbel and Brydie Smith who recently completed LSV's 18-25's Mentor Mentee Program.
The program involved a six-month formal partnership between mentors and Mentees across the State, where Mentors guided and supported their Mentees through agreed goals, throughout the season.
Kicking off in October last year, the program comprised of five in-person development sessions, plus a new addition to the program this Season, an online intensive skills series.
All program sessions were delivered by leaders from within the lifesaving community and emergency service partner agencies.
"The LSV 18-25 Mentoring program provided me with useful development and networking opportunities. Online and in-person sessions saw presentations from various guest speakers, including upper management from various other emergency service agencies. These speakers shared their own stories and provided insight on issues faced by rising leaders in the lifesaving space, such as conflict resolution and navigating Boards of Directors. The one-on-one aspect of mentoring meant that feedback and suggestions were personal and meaningful. We were paired with mentors that were relevant to our own aspirations and experiences, who aided in goal setting and exploring further opportunities. I'd highly suggest this program to others who aspire to develop their own skills and progress in leadership at a Club or State Level." – Xavier Korbel
Anyone interested in this fantastic program please get in contact with this season's participants!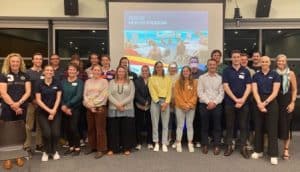 ---
IRB Racing
---
On the first weekend of the school holidays our Inverloch IRB racing team took to the beach at Lorne for the TRE IRB State Championships, going up against the best drivers, crews and patients across Victoria. The teams raced fast and smart, making their way through the competition. The Open Mens Tube team set the standard for the weekend as they placed 2nd in the first heat of the day. The weekend highlighted the teams dedication to the sport and positive attitudes as the cold temperatures, sideways rain and gusty winds couldn't sway the hopeful athletes. There were no medals brought home but the team has proven that Inverloch is a club who is in it to win it.
A highlight for Inverloch was when our own Official, Gayle Morris, was nominated by LSV to read the Officials oath at the commencement of the competition. The commitment she has displayed to the team and sport is unwavering.
Thank you to our team managers Brydie and Saskia who kept the team in line and on time as well as our officials, Gayle, Michael and Tim who supported the team by officiating the competition.
David Morris (Competition Director)

---
Volunteer Positions Vacant: Join the ISLSC Team!
---
Are you passionate about making a difference in our community? The Inverloch Surf Lifesaving Club seeks dedicated individuals to fill vital volunteer positions within our Club.
We are currently seeking individuals for the following positions:
Deck Bar Manager:
As the Deck Bar Manager, you will oversee the operations of our vibrant beachside bar. This role involves managing stock, coordinating volunteers, and ensuring exceptional customer service. Your enthusiasm for creating a friendly and enjoyable atmosphere will contribute to the overall club experience.
---
Kiosk Manager:
The Kiosk Manager position is perfect for those who love serving beachgoers with delicious food and refreshing beverages. You will be responsible for the day-to-day running of our kiosk, including stock management, volunteer supervision, and maintaining high standards of cleanliness. Your warm and welcoming approach will help create memorable moments for all visitors.
---
Member Protection Officer:
As a Member Protection Officer, you will be the primary point of contact for our valued club members. The role of the MPO is to support members and protect them and the club's wellbeing, to provide member welfare education and support. This position requires excellent communication skills, empathy, and a genuine commitment to fostering a strong sense of community. Training will be provided by Life Saving Victoria.
---
By becoming a volunteer at the Inverloch Surf Lifesaving Club, you will not only contribute to the safety and enjoyment of our beautiful beach but also be part of a close-knit team of dedicated volunteers who share a common goal. Whether you have experience in these roles or are eager to learn, we welcome your interest.
If you're ready to make a difference and be part of something special, please don't hesitate to contact our Secretary, Angela Malan, at secretary@islsc.org.au or President Glenn Arnold at president@islsc.org.au.
---
AGM 2023
---
The 2023 Annual General Meeting will be held on Saturday 29th July 2023 at 5.30pm at the Inverloch SLSC Clubhouse and remotely via Google Meet. The link for remote access will be circulated the week prior to the meeting.
All Board positions are declared vacant at the 2023 AGM and we encourage our members to step up and take a role in the future of our club.
All AGM details and forms can be found by clicking here:
---
Please support our Sponsors
---