---
In This Edition
---
From the President
Membership renewals
Welcome to our New Treasurer
Season Ready
Patrol Info & Skills Maintenance
Nipper Information
Competition Update
Volunteer Needed -Uniform Shop, Deck Bar & Building Manager
---
From the President
---
Dear Members,
I hope you're enjoying the long overdue sunshine? The ISLSC Board and many of our valuable volunteers have been working very hard to prepare the Club for the annual training activities and the busy summer season ahead.
Firstly, some news regarding the Board. I would like to welcome Jenny Perera to the ISLSC Board as our new Treasurer. Jenny is filling the shoes of Rob O'Neill who has stepped down after the past three years as Treasurer, thank you Rob.
Moving on to news from around the Club. Kew Bronze camp took place last week, and by the look of the Facebook photos, they couldn't have asked for better conditions. Our Adult Bronze course started last weekend and will finish up this coming weekend, with ten enthusiastic (and somewhat exhausted) members taking part. Our SRC and Bronze courses scheduled for December have been fully subscribed.
Hey patrollers – have you noticed the improvements to the Patrol Lounge? Yes, it's been updated. I don't want to compare it with the Hilton but hey, pretty close! Our Junior Club Captains are also putting out a call for assistance with further updates to the Patrol Lounge, and I would encourage all patrollers to get involved in making the Lounge your own. Well done to Nick, Sumith, Ione and Mark for your hard work.
This patrol season, Inverloch SLSC lifesavers will have the added bonus of an upgraded side-by-side all-terrain vehicle (ATV) among our existing patrol equipment, thanks to the generous support of Emergency Management Victoria through a VESEP grant, as well as member fundraising and donations.
Additionally, we can announce that we have new Kiosk operators this year. Members Chris and Bruce, will be wowing us all with their new coffee machine and menu offering from 21st December. They are taking over from Claudia, who has decided to step away this year. I would like to sincerely thank Claudia for all of her hard work over the past six years – especially throughout the unique challenges of the last couple of years. We are going to miss you in the kiosk Claudia, but hope you enjoy more time on the beach!
The Nippers Committee are gearing up for a busy season also, with registrations now open. Parents of nippers, I encourage you to get actively involved in the Nippers program by volunteering to be an Age Manager. You don't need any experience or qualifications – training is provided. I was an age manager when my daughters were participating in Nippers, and have loved watching that community of children grow into young adults, who are now leaders within our club… it's extraordinary that those same children are now training me for my adult Bronze and join me on the Board leading our Club.
As always, there is a tonne of work to be done. If you have any time to volunteer, now or through the season, I'd love to hear from you. We will definitely find you something to do.
Anyway, I've run out of space for now. If you have any questions please email them to info@islsc.org.au and we'll get back to you ASAP. Keep well and I look forward to seeing you on the beach in a few weeks!
Glenn Arnold
President
---
Membership Renewals
---
If you haven't renewed your membership for the coming season – now is the time to do it! For patrolling members, this will need to be completed before requal. Don't forget to check that your Working With Children Check is also current. You can renew your membership via the website https://islsc.org.au/membership/
Any questions please email our Membership Coordinator, Chris Malan at membership@islsc.org.au
---
Welcome to our New Treasurer
---
A heartfelt welcome to Jenny Perera who has joined the Board and taken on the role of Treasurer. Jenny has been a member of ISLSC since 2010 when her two oldest sons Nick and Ben started nippers. In that time she has helped out in the kiosk, uniform shop and with the nippers BBQs. Jenny says that "over the years our family has thrived through our involvement in the club. As an accountant I felt that I could make a meaningful contribution to the board as Treasurer. Rob O'Neill has left huge shoes to fill as the club is in a good financial position and I want to ensure that this continues". If you see Jenny around the club please make her welcome and feel free to have a chat.
---
Season Ready…
---
Congratulations and thank you to those who have been nominated and appointed to the following roles for the upcoming season:
Junior Club Captains:
Jackson Comrie and Lily Creswell
YIPs Coordinator:
Lucy Tate
Nippers Committee:
Lucy Chambers (Chair)
Georgie Kibble
Jason Mann
Life Saving Operations Committee (LSOC):
Vice Club Captain – Brydie Smith
Patrol Manager – Ella Arnold
IRB Captain – Xavier Korbel
First Aid Officer – Jackson Comrie
Radio Officer – Reid Jones
Gear Steward – Sumith Perera
Uniform Coordinator:
Kirk De Marchi
---
Patrol Season
---
The 2022/23 patrol season is almost here, and will commence on Saturday 26th November.
This season's patrol roster has been finalised and emailed to patrolling members. It can also be found on the ISLSC member's Facebook group. Apologies for the delay in releasing this – LSV only recently confirmed dates. Please note the patrol that you have been allocated to and your rostered dates.
Thanks to everyone who has already committed to patrolling in the coming season. If you do not see yourself on the roster, please complete the patrol survey via the link below, and you will be added in the next version of the roster.
https://islsc.org.au/patrol-survey/
---
Skills Maintenance
---
Skills maintenance will be held THIS Saturday, 19th November at 11am. Members must complete skills maintenance prior to the New Year, in order to retain certification. This requal session will cover Bronze, SRC, ART + FA, IRB Drivers & Crew, and SSV.
Please register via https://mt.lsv.com.au/login/
If you are unable to attend this weekend, pls utilise the LSV member training website to access Skills Maintenance opportunities at other clubs.
---
Updating the Patrol Lounge Photo Wall
---
After a long hiatus of the infamous patrol lounge photo wall, It will finally be getting a revamp for the upcoming 2022/23 season. However, we need your help to ensure the wall is filled out.
You can upload any club related photos to https://photos.app.goo.gl/DvAEcTks5uR8NuR67. If you don't have a google account to upload them, then send the photos to Jackson Comrie or Brydie Smith via dm. Feel free to reach out to Brydie Smith (VCC) Lily Creswell (JCC) or Jackson Comrie (JCC) if you have any queries.
---
Nippers Season
---
The 2022/23 Nippers Season is fast approaching – commencing in just under six weeks!
To facilitate planning, nippers enrolments close on the 27th of November. If you haven't had a chance, sign up now to ensure your children don't miss out on 2 weeks of fun and learning valuable life saving skills!
Nippers Schedule:
Week 1:
27th December – Prelim swim day
28th, 29th & 30th December – Nipper program
Week 2:
2nd – 6th Jan
Inverloch Fun Nipper Comp Friday 6th Jan
---
Bass Coast Inter-Club Nippers Carnival
A nippers interclub carnival will be taking place on Saturday 7th Jan @ Cape Paterson SLSC. Details will be distributed closer to the date, or you can contact competition@islsc.org.au for more information.
---
Parent Participation
A reminder to all families that this program is completely dependent on volunteer participation. Everyone needs to get involved to ensure a smooth running of Nippers. Each family is expected to sign up for at least 2 jobs. Whether it is cup-cake baking, sausage sizzling, helping in the clothing store, or age managing, there is a job suited to all skill sets. You can register for a volunteer roles here: https://volunteersignup.org/7M8EW
** Please note, the kiosk no longer requires volunteers, so if you have already signed up to volunteer in the kiosk, please head back to https://volunteersignup.org/7M8EW and select a replacement job!
At this stage we are still looking for AGE MANAGERS! Age managers are essential for the delivery of the nippers program. If you have ever thought you might like to age manage, but don't know what is involved, contact Lucy Chambers, Nipper Coordinator, nippers@islsc.org.au to find out more. Training is provided – you don't need to have been a lifesaver yourself.
---
Water Safety
Water safety volunteers are also essential to the running of nippers. Whether you are available for 1 session or the entire program, please sign up to participate via this link. https://volunteersignup.org/KTB9E
---
Prelim Swim Form
Please ensure that the preliminary swim form is completed by a swim teacher/competent assessor for every child. If your nipper has not had their form completed by their swimming teacher, they will need to complete a prelim swim assessment on 27th December.
The times for each age group are:
U7 – 10.00
U8 – 10.30
U9 – 11.00
U10 – 11.30
U11 – 12.00
U12 – 12.30
U13 – 13.00
U6s do not have to be assessed prior to nippers starting!
The prelim swim form/assessment must be completed prior to the start of Nippers – your child will NOT be able to go in the water without it.
---
Pinkies & Caps
Nippers also need to be wearing a club cap (yellow and red striped lifesaver cap) and a pink vest. If you would like to pre-order your sizes for quick pick up – please email clothing@islsc.org.au.
---
Got any questions?
Nippers questions can be sent to Lucy Chambers, Nippers Coordinator, at nippers@islsc.org.au.
---
Kew Secondary College Bronze Camp
A warm welcome to this year's Kew High School Bronzies! They had perfect weather all week for camp matched by perfect attitudes. Hope to see these fresh new faces around during summer. Please make them welcome on patrol.
A massive thank you to our trainers – Lucy Tate, Kirsten Thomas, Holly Foster, Xavier Korbel, Jono Lee, and Nick Perera. A big congratulations to Holly for doing such an amazing job of leading a camp for the first time… the same camp that started her lifesaving journey with ISLSC in 2018.
Kew Secondary College has been coming to ISLSC for their Bronze Camp for 10 years. With many of our patrollers introduced to lifesaving (and Inverloch) through this pathway.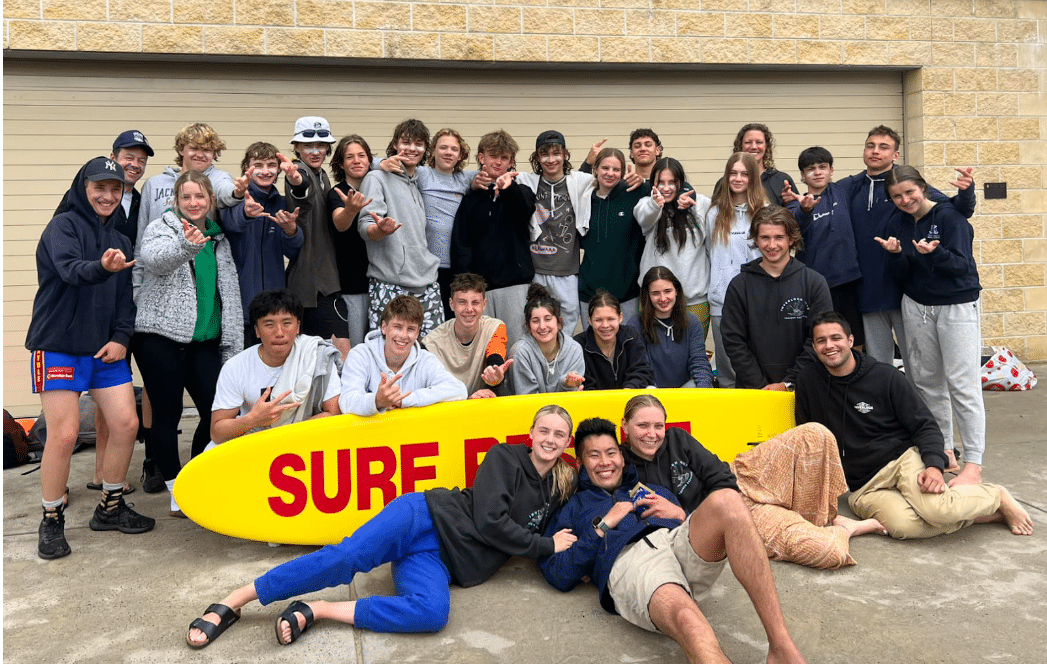 ---
ISLSC members supporting Operation Rising Tide
---
Well done and a big thank you to our members who recently supported LSV and other emergency services responding to Victorian flood events. Ella Arnold, Nick and Sumith Perera and Warren Cook each played a big part in supporting this important effort.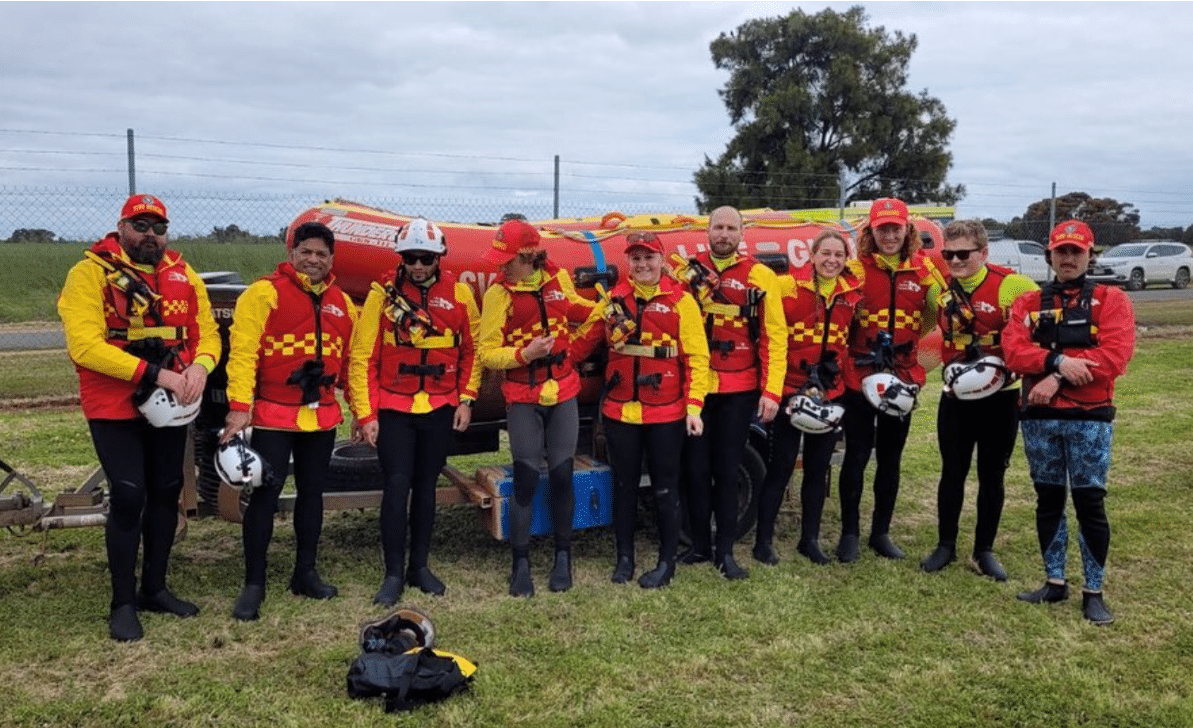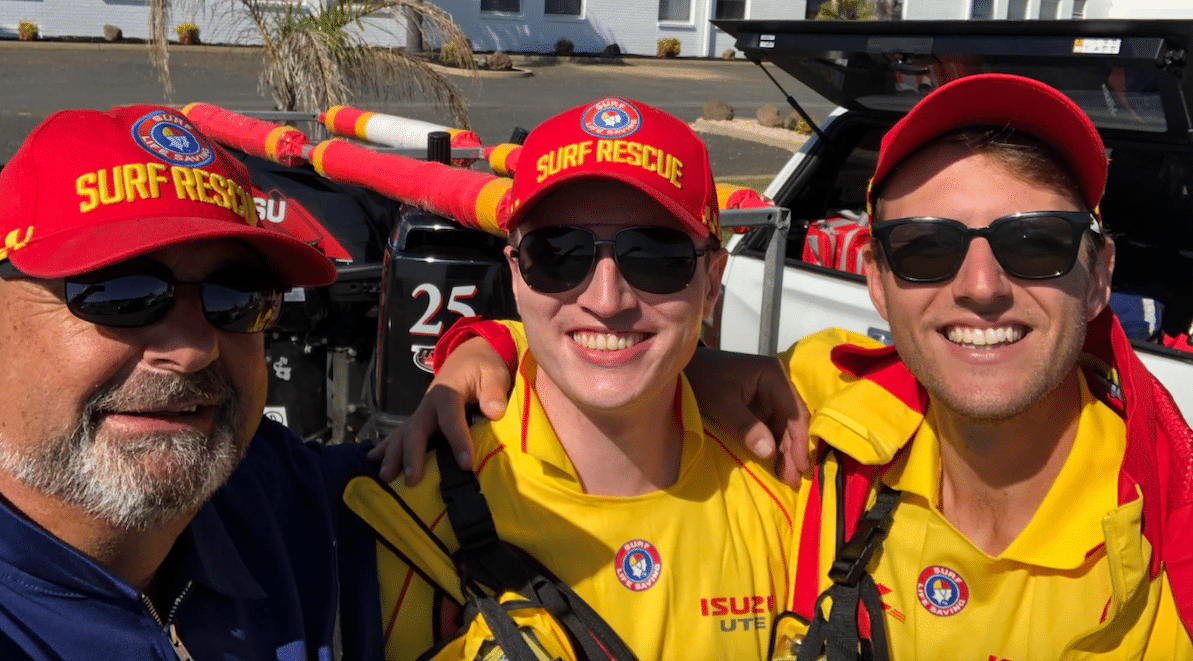 ---
Competition Update
---
Summer competition
As summer approaches just around the corner more competition carnivals are being held for both Juniors and Seniors. Please use the link below to view the competition calendar for LSV run carnivals across the state. https://lsv.com.au/2022-2023-lsv-aquatic-sports-carnival-calendar/
If you are interested in competing, please email me no later than the Sunday prior to the carnival so I can register the athlete.
---
IRB Racing
After the great return and success of the Winter IRB team we are keen and eager to prepare and grow for the coming season. If you are interested in taking part in the Inverloch IRB racing team, please email me with any questions or interest you have.
David Morris
Competition Director
Competition@islsc.org.au
---
Clubhouse Accommodation Bookings
---
If you are wanting to stay in the clubhouse while on patrol, training or helping with Nippers please follow the process below. Remember booking requests must be in by the Thursday prior to the weekend, and under 18's can only stay if a supervisor is available. Once your request is received you will be notified as to whether accommodation is available.
---
Uniform Shop Hours
---
This year Kirk De Marchi is taking over the role of clothing coordinator – thanks Kirk! Once again, the uniform shop will be offering a broad range of merchandise. This season the shop will be open from 27th December through to 8th January 8, 8:30 – 12:30 (closed January 1).
Interested in volunteering on a particular day? Sign up here, or email Kirk at clothing@islsc.org.au.
---
Deck Bar Volunteers needed!
---
Summer is around the corner and we need your help! Join the Deck Bar volunteers. The ISLSC Deck Bar has become the place to be for something cold after a long hot day on the beach!
The Deck Bar runs on volunteers only. It is a lot of fun working on the bar, getting to know a lot of people over summer. Everyone likes the person pouring their drinks! All you need is your Responsible Service of Alcohol certificate*:
* The club will refund the cost for the course for anyone under age 25. All we ask is that you commit to doing 2 shifts on the bar.
You can commit to as much or little as you like, it's very flexible. The more volunteers we have the less the load on everyone. It's even more fun doing it with a friend, so join as a team.
Please reach out to Warren Olivier on 0407 509 748 or deckbar@islsc.org.au if you want to join the Deck Bar team.
---
Position Vacant – CLUBHOUSE BUILDING MANAGER
---
We are looking for a dedicated and proactive member to take on the role of Clubhouse Building Manager. This role is responsible for coordination and management of the annual maintenance schedule, as well as coordination of ad hoc maintenance tasks (including trades) as required.
If you are interested in this key role please get in touch, Angela Malan, Secretary, 0413 904485 or secretary@islsc.org.au
---
Please support our Sponsors
---